CarePOV: Role-based Mobile Solutions
Netsmart CarePOV™ solutions transform how you deliver services by bringing technology to where you provide care to your clients – in their homes, in your clinic, at inpatient or residential facilities. With mobile functionality that operates on the same rules and workflows as your Electronic Health Record, CarePOV solutions simplify documenting observations, taking vitals and other actions, so you can reduce paper and allow staff to spend more time on client care.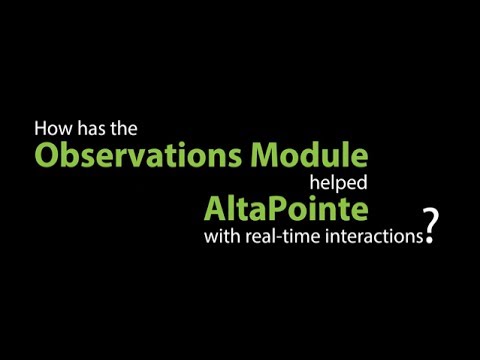 How Observation Module has helped AltaPointe
CarePOV solutions are based on the role of the care provider, and because they are tightly integrated with your EHR, each user can access only the data he or she is authorized to see. Here's a quick overview of CarePOV solutions:
Observer: Behavioral health technicians can record observations every 15 minutes quickly and accurately in residential or inpatient programs
Vitals: Clinicians can take and record consumer vitals in real-time, eliminating the need to transcribe data
eRx: Physicians have access to a patient's EHR and can prescribe medication from a tablet
Clinician: Clinicians who see patients in the field can enter data and complete actions in disconnected mode during the visit; any changes or additions will automatically sync with the EHR when checking back in
IntegratedCare: Clinicians can use a tablet to capture the CPT code at the time of service, preventing under- or up-coding
Here's what Steve Dolan, chief information officer with AltaPointe℠ Health Systems, had to say about his organization's use of the CarePOV Observation app:
"What we did...is collect all those stacks of paper in one app. Now we have a 24-hour view in of what's going on with a patient. And it's in real time."
To find out more, watch the video on this page or contact us for a demo and additional information.